Detect urinary tract infections (UTI) and other disorders of the urinary tract with our point of care urine testing.
For as low as N1,500
Fast and accurate results
Inclusive of doctor's consultation
Home sample collection
Faster diagnosis of time-sensitive critical conditions

No waiting hours or days for results to arrive.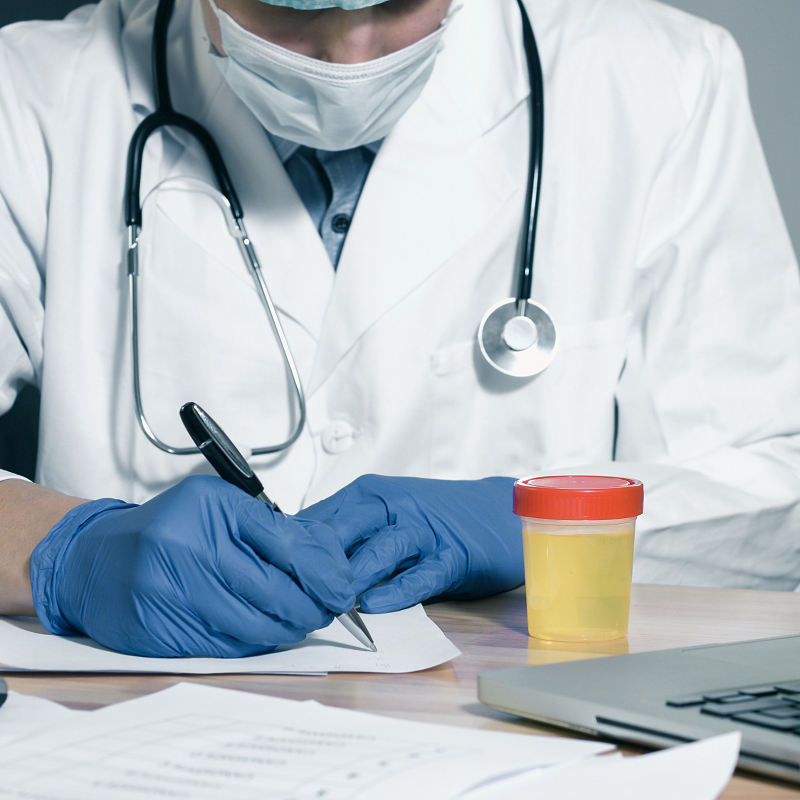 WHY AFHealthcare
Our unique point of care testing have made it possible to analyze a myriad of health parameters in a quick and simple way to make screening, triage, diagnosis, treatment, and prognoses as effective as possible
AFHealthcare specializes in the general well-being of non-life-threatening personal health challenges.
Unlike the classic laboratory approach, which involves a pre-analytical, analytical, and post-analytical phase, our Point of Care Urinalysis (POCT) offers fast and accurate results significantly lowers the risk of potential mistakes by eliminating all but the analytical phase.
You can get your urine checked, screened and monitored from the comfort of your home using our point-of-care urinalysis testing device.
How The Point of Care Urinalysis Works
STEP 1
Book your Urine test
Schedule for your urine test on our website or call any of our contact lines.
STEP 2
Decide location to get your sample taken
Our medical team will visit your home, office or wherever you choose to have your test or screening. ( You can have you sample taken in our office)
STEP 3
Receive Your Results
Our point of care testing results is faster compared to laboratory testing. Your result is made available with no delay.
STEP 4
Make Decisions On Your Health
You can set u a consultation with our doctor over chat, online or video for more medical explanation and guide
POCT URINALYSIS PACKAGES
Cost of point of care urinalysis and urine test in Abuja
Happy Patients
What our Customers are saying about our services at Afhealthcare
Point of Care Urinalysis FAQ
What is a Urinalysis or (also called a "urine test")?
It is the comprehensive examination of the physical and chemical properties of urine and its microscopic appearance to aid in medical diagnosis.
What is being tested?
– Test for infections
– Early detection of diseases like diabetes, kidney disease, or Liver disease
– Kidney Problem.
Can I visit your office to have my test carried out?
Yes, we are in Obasanjo Space Center, Along Airport Road Lugbe Abuja, Nigeria.
I am having difficulty moving, can this test be carried out at home?
Yes, we run an ambulance service.
Is Afhealthcare a medical laboratory?
AF Healthcare is an outpatient clinic in partnership with some laboratories in Abuja.
Can I trust your result?
Our Results are 100% accurate.
How fast can I get my result?
Are you a verified and registered company?
AF Healthcare is duly registered with the Corporate Affairs Commission of Nigeria. The facility has been approved by the Private Health Establishments Registration and Monitoring Committee (PHERMC) and our equipment approved by the Standard Organization of Nigeria, SON.
Also, our team is made up of licensed professionals with their respective regulatory bodies and their licenses are valid.
Can I take my sample myself and visit your office?
This is a Urine test, therefore If you have a sample bottle, yes you can collect your sample yourself.
What makes your point of care different from what a medical laboratory will do?
The rationale for using POCT, as opposed to central laboratory testing, is that the more rapid availability of a test result will facilitate early clinical decision making and might therefore contribute to better patient management and outcomes.
What infections can be found in Urine?
Urethritis – Infection of The Urethra.
Cystitis – Infection of The Bladder.
Pyelonephritis – Infection of The Kidneys.
Vaginitis – Infection of The Vagina.