Want an Ultrasound scan with reduced cost, imaging delay and radiation exposure?
Our clinicians have been trained to treat you faster, more accurately, and in a non-invasive way at the point of care, without relying on trips to the Radiology department.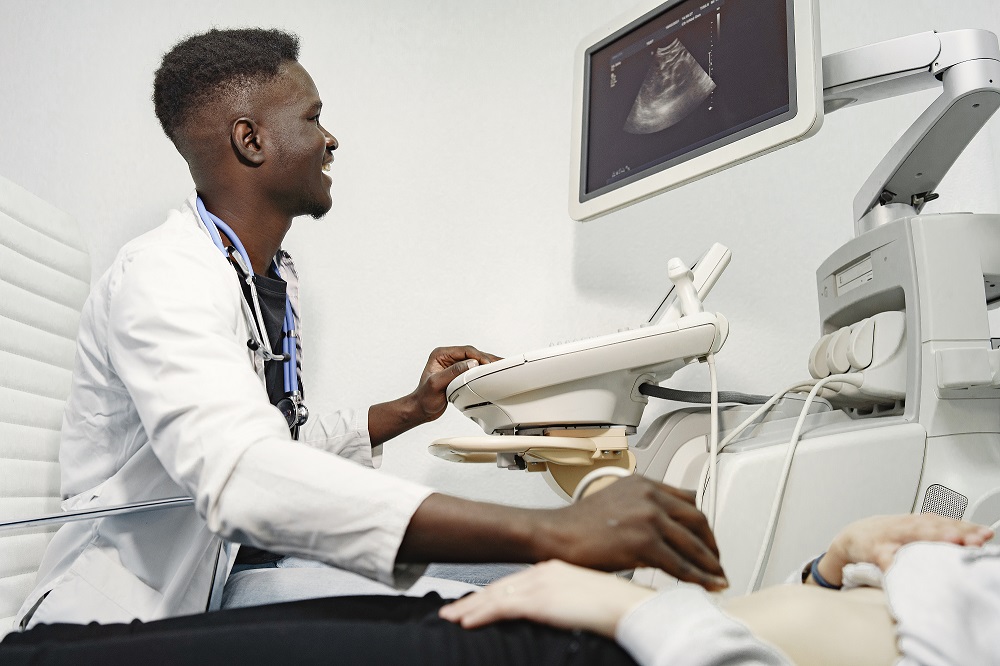 WHY AFHealthcare POCUS (Point-of-Care Ultrasound)
Our unique "Point-of-care ultrasound" POCUS indicates that portable ultrasound can be transported to wherever the patient is located.
Imaging modalities and their applications have gone where they've never been before. Healthcare providers now bring this sophisticated imaging device to the patient, rather than vice versa.
Point-of-care ultrasound (POCUS) — a safe, effective imaging modality with a rapidly expanding array of life, time, and cost-saving applications.
How The Point of Care Ultrasound Scan Works
STEP 1
Book your Ultrasound Scan
Schedule for your Ultrasound scan on our website or call any of our contact lines.
STEP 2
Decide location to get your sample taken
Our medical team will visit your home, office or wherever you choose to have your test or screening. ( You can have you sample taken in our office)
STEP 3
Receive Your Results
Our point of care testing results is faster compared to laboratory testing. Your result is made available with no delay.
STEP 4
Make Decisions On Your Health
You can set u a consultation with our doctor over chat, online or video for more medical explanation and guide
(POCUS)Ultrasound scan In Abuja PACKAGES
Cost of Point-of-care ultrasound in Abuja
Happy Patients
What our Customers are saying about our services at Afhealthcare
Got Questions About Afhealthcare Point-of-care ultrasound? We Have Answers
What is an Ultrasound?
Diagnostic ultrasound is also known as sonography is an imaging method that uses high-frequency sound waves to produce images of structures within the human body. These images can provide valuable information for the diagnoses and treatment of so many diseases.
Is your ultrasound point of care, or I have to come to your facility?
AF Healthcare can carry out your scan wherever and whenever you need it.
Can I carry out my pregnancy scan with your ultrasound scanner at home?
Yes, including;
Abdomen
Bladder
Breast
Cardiac
Carotid
Difficult
Lung
MSK
MSK Elbow
MSK Foot/Ankle
MSK Spine
Nerve
OB/GYN
Ocular
Plastic Surgery
Prostrate
Small Parts
Thyroid
Vascular
Is ultrasound safe?
Ultrasound is a very safe, painless, and non-invasive procedure that does not expose the patient or the operator to radiation. This makes it a preferred method if feasible. Since it doesn't use radiation, ultrasound has little if any risk of complications.
Can I visit your location to be scanned?
Yes, we are in Obasanjo Space Center, Along Airport Road Lugbe Abuja, Nigeria
Can I trust your result?
Our Results are 100% accurate.
Are you a verified and registered company?
AF Healthcare is duly registered with the Corporate Affairs Commission of Nigeria. The facility has been approved by PHERMC and our equipment approved by the Standard Organization of Nigeria, SON.
Also, our professionals are all licensed professionals with their respective regulatory bodies and their licenses are valid.